Signal Vine Playbook for Stop Outs
Designed as the only purpose-built conversational messaging campaign to help institutions disrupt enrollment decline, Signal Vine Playbook for Stop Outs, empowers you to seamlessly blend one-to-one text messaging with automated nudges and responses, to innovate and elevate campus communication, and re-enroll students who have stopped out.
The Problem:
2 out of 5 college students who start a credential do not finish it.
35 million learners in the US started but never completed a higher ed credential.
How Signal Vine Playbook for Stop Outs Helps
Signal Vine was created by a higher ed administrator whose doctoral work focused on engaging students through innovative channels. The Playbook for Stop Outs uses 5 actionable steps: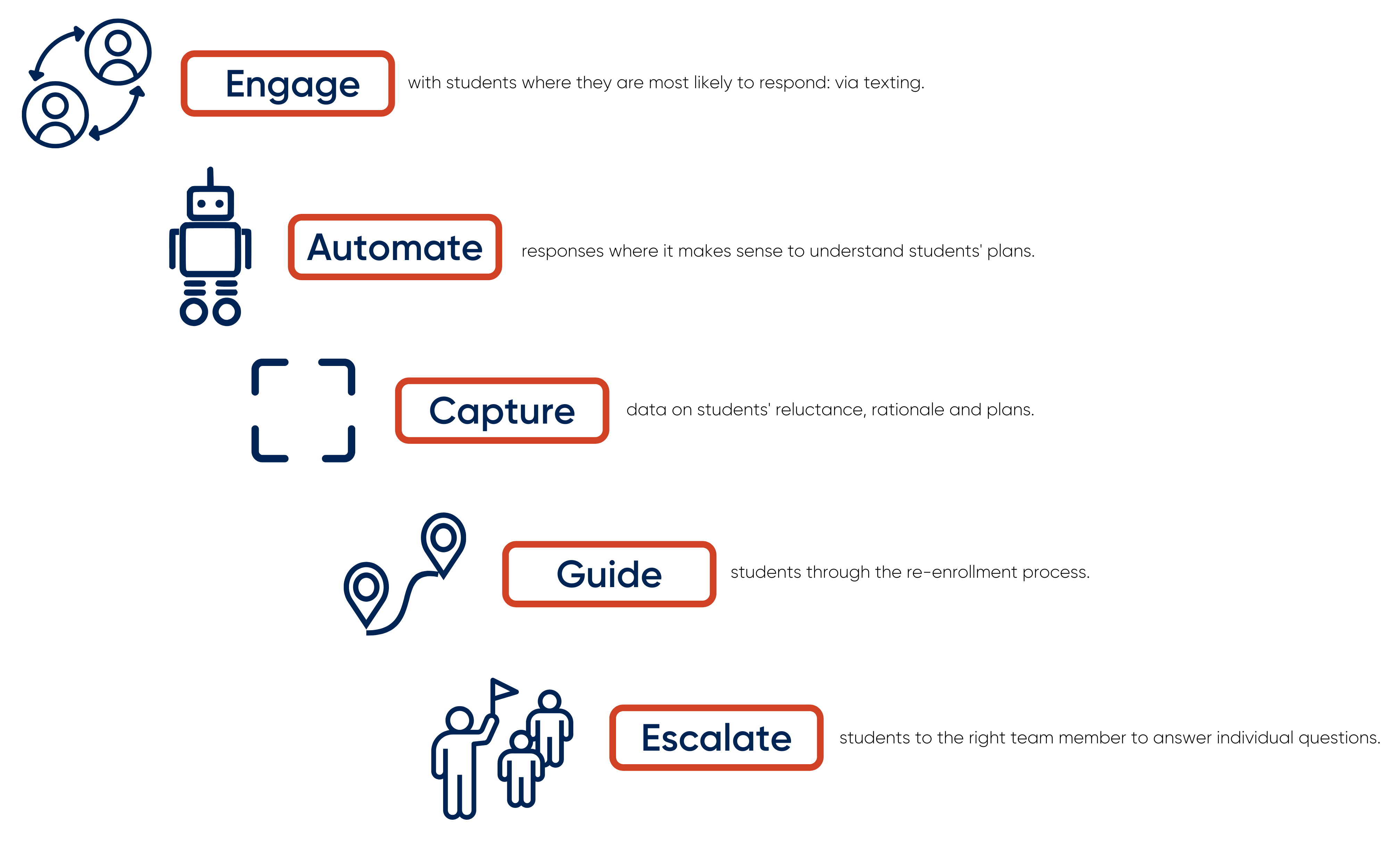 Engaging In Conversations; Improving Outcomes
Students are not trends or benchmarks. When we listen, students will tell us what they need, feel or fear which—enables us to respond with the right solution for their unique needs. See how campuses are using Signal Vine Playbook for Stop Outs to improve outcomes for their students.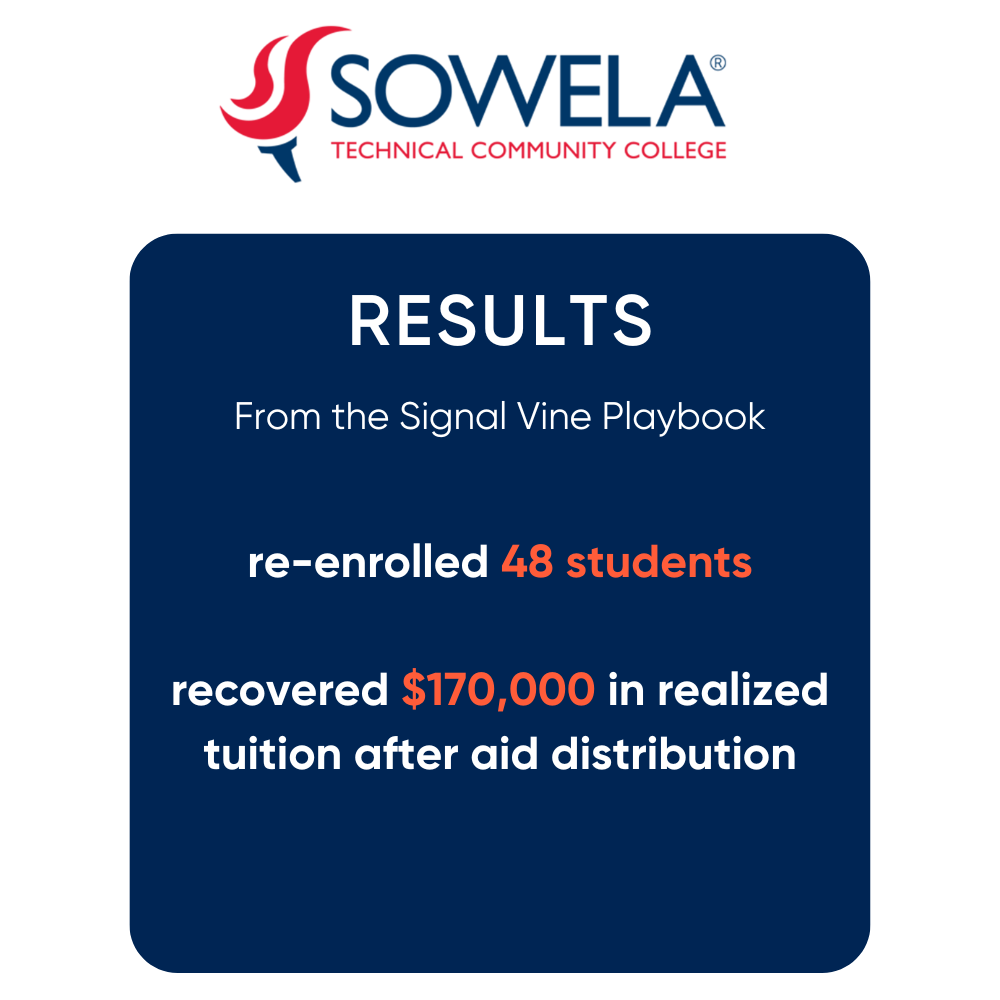 SOWELA Technical Community College
SOWELA was looking for an effective communication channel that would streamline their conversations with stopped-out students while also understanding why they weren't returning. Before Signal Vine, SOWELA had been utilizing a mailer with an incentive without success. They chose Signal Vine Playbook for Stop Outs to increase the relevance and personalization of their messages and to respond quickly.
Cincinnati State Technical and Community College
Cincinnati State had thousands of students with outstanding balances who had left the institution without a degree. After a multi-part social and email campaign offering HEERF dollars to wipe out the debt and get them reenrolled, many of the students had not responded and left thousands of dollars on the table. A one-touch outreach had over 300 students respond, and over 100 students indicated where they were struggling with logins, paperwork, and degree planning.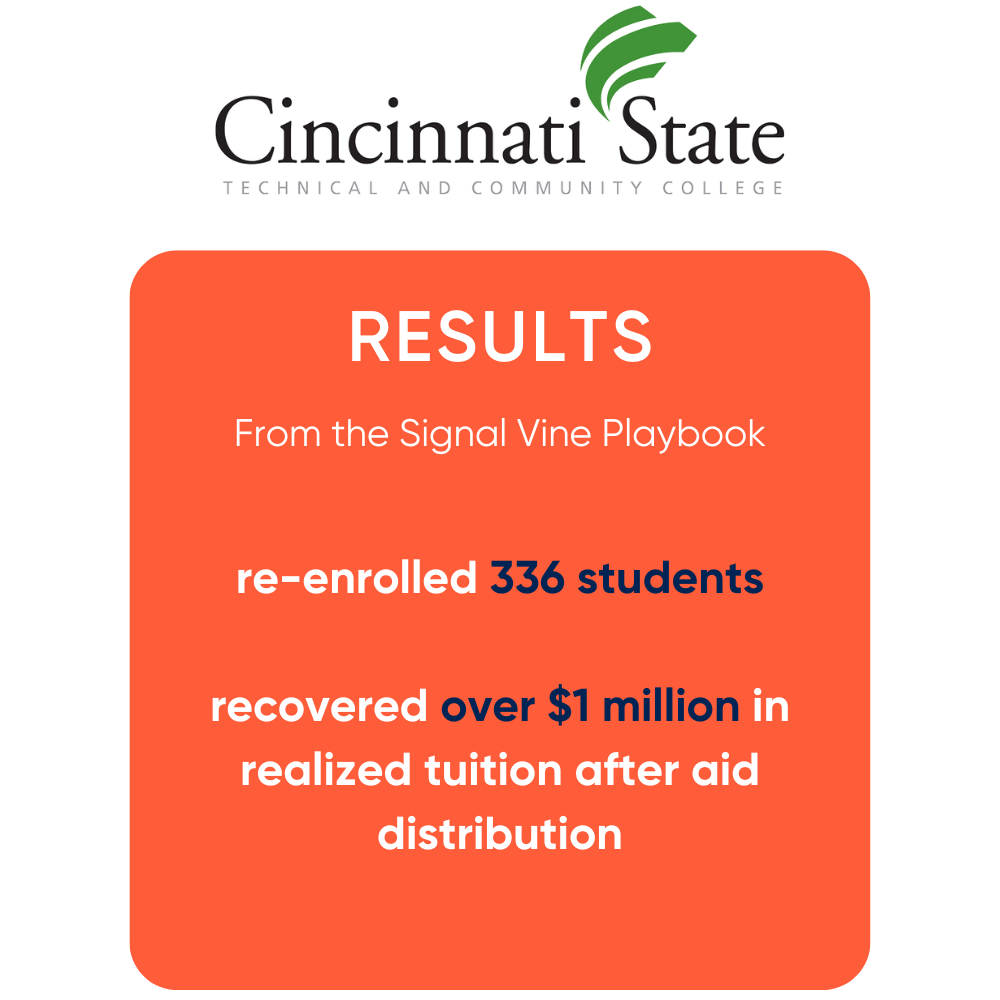 Reconnect Stop Outs with Signal Vine Playbook
Learn more about how to reconnect students with campus and feel a deeper sense of belonging while bringing hundreds of them back into the enrollment funnel.